When Jonathon Sawyer and his wife, Amelia, returned to their hometown of Cleveland, Ohio to open a restaurant, they knew they wanted to design a concept around sustainable, farm-to-table living.
That meant sourcing locally grown ingredients, environmentally conscious finishes, and durable kitchen equipment. The Greenhouse Tavern opened in 2009, honored as the first Certified Green Restaurant® in the state of Ohio, complete with a rooftop garden to provide the restaurant's herbs.
How to Become Green Certified
There are three main levels of Certified Green Restaurants®: 2-, 3-, and 4-stars. Restaurants are awarded a certain number of points across seven categories, according to predetermined standards. The categories are: Water Efficiency, Waste Reduction & Recycling, Sustainable Durable Goods & Building Materials, Sustainable Food, Energy, Reusables & Environmentally Preferable Disposables, and Chemical & Pollution Reduction.
To receive certification, a restaurant must:
Accumulate a total of 100 GreenPoints™
Meet Minimum Green Points™ in each category (10 points in each)
Have a full-scale recycling program
Be free of polystyrene foam (styrofoam)
Yearly Education
Continual Change:

By the end of Year 3, restaurant must have 135 GreenPoints™
By the end of Year 6, restaurant must have 175 GreenPoints™
Learn more from the Green Restaurant Association.
About the Chef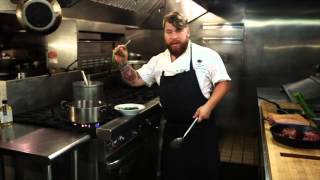 The Greenhouse Tavern was named one of the top ten best new restaurants in the U.S. by Bon Appetit magazine. Sawyer has appeared on Food Network's Iron Chef America and Dinner Impossible, and has been recognized as one of Food & Wine's Best New Chefs. Sawyer was also the recipient of the 2015 James Beard Award for Best Chef: Great Lakes region. In addition to The Greenhouse Tavern, Sawyer also owns Noodlecat in Cleveland, offering his modern take on classic Asian cuisine.
Connect with the Chef
Jonathon Sawyer has opened four restaurants and the Tavern Vinegar Company in Cleveland, Ohio. Connect with Chef Sawyer on Facebook, Twitter, Instagram, and on his website.
Sustainability
Articles
Read success stories from foodservice professionals.